I want Area 13 products in more hands, more locations, and on more trails.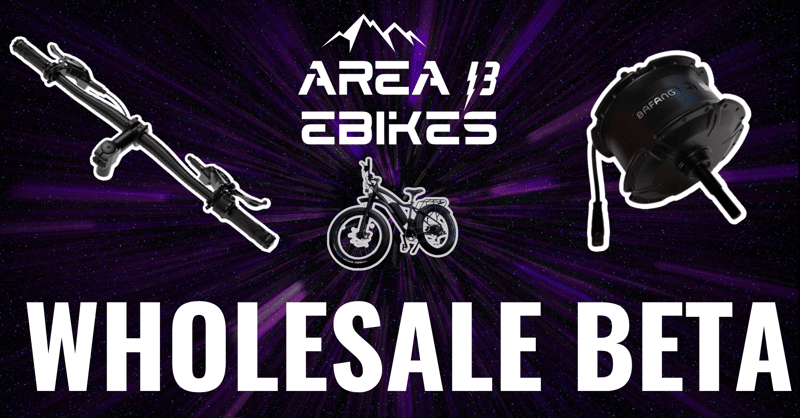 Introducing a beta wholesale program for business customers.
Who this is for:
Retail Bike Shops
Rental Companies
Bicycle Repair or Service companies
What does this mean if you're a direct customer of Area 13?
We're working hard on new products and inventory for the electric bike industry. Next time you go into the local bike shop, they might have Area 13 bikes or parts in their shop! Or perhaps the rental shop down the street will have blackbirds you can try before you buy.
If you have a great ebike friendly shop close to you, please send them our way.
How to sign up:
If you have a bicycle related business you can apply here. I will be personally reviewing each application.
As this is a Beta program, current pricing and structure is subject to change at any time. Wholesale program applies to select products and does not include all items available to the public.
Q: "How will this benefit my business?"
Retail Bike Shops - Access to affordable, high quality electric bikes, as well as unique parts and pieces we've developed. 100% USA support.
Rental Companies - If you currently rent bikes (or if you'd like to get started) we know you need reliable, quality bikes. As a company that is involved in every step of the manufacturing process, we have spare parts and experienced service staff on hand to keep your business up and running. We also believe our nationwide reach will be helpful in sending customers your way. (More on that later!)
Bicycle Repair or Service Companies - If you're running a small or perhaps mobile shop, it can be hard to get the parts you need. You don't need 50 Bafang motors, and ordering one at a time from China is time consuming. We hope to be a new source of key components to keep your customers happy. In turn we can help send our customers to you. We want to build up your company as well as ours.
Have fun and don't crash!
Kyle, Area 13